Each student, sets two main factors for himself when deciding to enroll in a University in Uzbekistan:
In most cases, many higher educational institutions do not correspond to the ratio "Quality of education = Cost of education". Some applicants cannot afford to pay for their tuition at Uzbek universities due to the low income of their parents. As a result, those students who cannot pay for expensive education in Uzbekistan look for alternative ways to get higher education abroad at a lower cost or even for free. Unfortunately, most applicants have no idea how much it costs to study at foreign universities and is it really cheaper? In this article we will try to answer this questions.
In fact, many countries offer higher education much cheaper than universities in Uzbekistan, or even free of charge. The list of such countries includes:
Turkey
China
Malaysia
Kazakhstan
Kyrgyzstan
TURKEY
Turkey is one of the most popular countries among our applicants, since only this country has the lowest tuition fees. Tuition fees at Turkish universities start at $250 per year! Usually at this price you can study at public universities. A high and stable economy, developed tourism, a multi-ethnic population of Turkey and low cost of higher education are increasingly attracting students from all over the CIS. In particular, from Uzbekistan, there is an increase in the flow of applications to universities in Turkey from year to year! Therefore, if you are looking for inexpensive and high-quality education for yourself to become a real specialist, then Turkey is the best choice to start your career. In addition, in your free time, you can officially work and receive a salary that can cover up to 100% of the cost of living and boarding during your studies. For detailed information on how to enter a Turkish university, you can contact our consultants, and for now you can see the available educational institutions in Turkey in this section.
CHINA
China is the most dynamic and fastest growing country in the world, with the strongest economy and education quality! The Chinese government is actively promoting the attraction of foreign students to universities throughout the country. This is probably the only country where it is easy to get a 100% scholarship! In addition, you are eligible for a free dormitory and a monthly maintenance allowance of up to $500! These factors attract thousands of students from all over the world! Recently, China has become a mecca for students who are looking for a decent education after which they can become sought-after specialists in their field and get a high-paying job both in China and upon returning to their homeland! For detailed information on how to enroll in Chinese universities, you can contact our consultants who specialize in Chinese universities! In the meantime, you can look for Chinese universities you have an opportunity to enroll from Uzbekistan.
MALAYSIA
Malaysia is a beautiful and multinational country, with developed tourism and hospitality, and is also actively involved in attracting applicants from all over the world! Qualitative education is provided through the active involvement of teachers from the most famous universities in England, the USA and Europe. Over the past 10 years, Malaysia has made a giant leap forward in raising the level of education in the country. In Malaysia, areas of study in tourism, business, IT and everything related to the ocean and its animals are very popular! To study cheaply or for free in Malaysia, you must meet certain requirements, thanks to which you can receive a scholarship of up to 100%!!! You can also get details of studying in Malaysia at our office at world.uz; you can see the addresses of our branches on the contact page, as well as see the list of universities in Malaysia, where we can help you enroll.
KAZAKHSTAN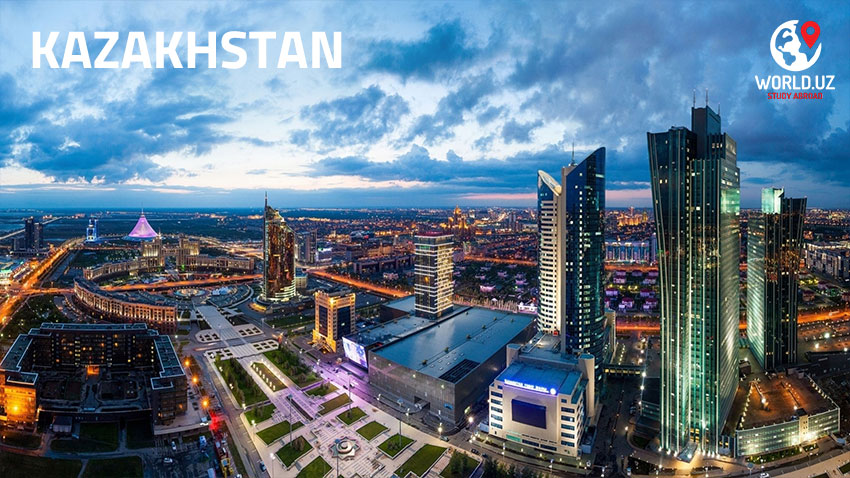 Kazakhstan is one of the fastest growing countries in the CIS! This is an excellent choice for those who have problems in English or for those who do not want to go far from home and get an inexpensive but high-quality education! Kazakhstan is also actively attracting students from Uzbekistan to its universities, where prices are lower than in Uzbekistan, and the quality of education is in no way inferior to our universities. It is also the country with which we have very deep historical ties. Ethnically close to the Uzbek people, Kazakhs always treat our compatriots very warmly. A diploma from a Kazakh University is valued and quoted in Uzbekistan, as the education system is very similar to the Uzbek one. Therefore, if you want to get an education in Kazakhstan, we are waiting for you at our office, where you can get all the necessary information and choose the best university in Kazakhstan for admission.
KYRGYSTAN
Kyrgyzstan - also offers inexpensive tuition starting at $400 per year! Recently, a lot of students from Uzbekistan have chosen Kyrgyzstan as a place for admission, after they failed to enter the universities of Uzbekistan. It is also possible to enter a Kyrgyz university without exams. You can find out how to do this from our consultants. In the meantime, you can see which educational institutions are currently available for admission.
There are also other countries where you can get an inexpensive education. But these countries, we will consider in the following articles!
Dear Applicant! As you can see, there are many countries where you can get a decent higher education at a cost much lower than in Uzbekistan. So, if you were unable to enter a university in our country, consider studying at a foreign university! Do not waste time and rather contact us for advice and we will do our best to help you achieve your goal and get a higher education without wasting time!
Contacts of our consultants: